Electoral authority calls election for Lula
Brazil's electoral authority has called the runoff for leftist Lula da Silva, which means he has won presidential election, defeating far-right incumbent Bolsonaro.
This is the most important result in decades for one of the world's largest democracies –and for the future of the Amazon and the planet.
Key events
France's president, Emmanuel Macron, has congratulated Lula, saying that his win "opens a new page in the history of Brazil".
"Together, we will join forces to meet the many common challenges and renew the bond of friendship between our two countries," he said.
Lula has pledged to put a halt to illegal deforestation in the Amazon, and once again has prominent environmentalist Marina Silva by his side, years after a public falling out when she was his environment minister. The president-elect has already pledged to install a ministry for Brazil's original peoples, which will be run by an Indigenous person.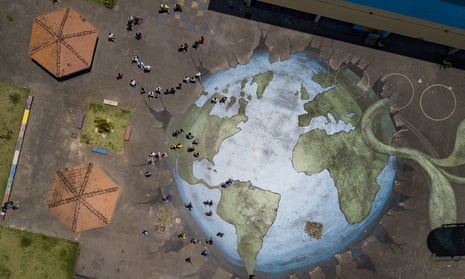 Portugal's president, António Costa, has already congratulated Lula over the phone, he said in a tweet, adding: "I look forward to our work together in the coming years with great enthusiasm, in favour of #Portugal and #Brasil, but also around great global causes."
From the Associated Press:
Thomas Traumann, an independent political analyst, compared the results to US president Joe Biden's 2020 victory, saying da Silva is inheriting an extremely divided nation.
"The huge challenge that Lula has will be to pacify the country," he said. "People are not only polarised on political matters, but also have different values, identity and opinions. What's more, they don't care what the other side's values, identities and opinions are."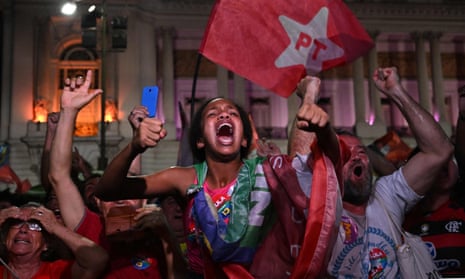 Bolsonaro had been leading throughout the first half of the count and, as soon as da Silva overtook him, cars in the streets of downtown São Paulo began honking their horns. People in the streets of Rio de Janeiro's Ipanema neighbourhood could be heard shouting, "It turned!"
Da Silva's headquarters in downtown São Paulo hotel only erupted once the final result was announced, underscoring the tension that was a hallmark of this race.
"Four years waiting for this," said Gabriela Souto, one of the few supporters allowed in due to heavy security.
Mexico's president, Andrés Manuel, has congratulated Lula, saying "There will be equality and humanism":
(When Lula won the first round but failed to secure an outright majority, Manuel appeared to mistakenly congratulate him on an overall victory).
Brazil's future president has posted the below photograph of his hand on the Brazilian flag, with the caption "Democracia". Lula lost his pinkie finger in a work accident decades ago:
The mood is a little different in Rio de Janeiro, where, journalist Constance Mallaret reports, Bolsonaro's supporters gathered outside the president's home in the western neighbourhood of Barra da Tijuca to watch the vote count, clad in yellow football shirts and waving the Brazilian flag – symbols that have become synonymous with the president's nationalist movement.
Their high spirits fell as Lula pulled ahead, with pro-Bolsonaro jingles and firecrackers giving way to evangelical songs and prayers.
"I'm angry," said Monique Almeido, a 36-year-old beautician, as Lula's victory looked inevitable. "We're demotivated, I don't even know what to say."
"It's fraud without a doubt, they manipulated the count. The armed forces must intervene," said João Reis, a 50-year-old electrician. And if they don't? "The population must take to the streets to demand military intervention so that we don't hand power over to the communists."
From atop a sound truck, a man draped in the Israeli flag, another symbol often used by evangelical Bolsonaro supporters, and who identified himself as Felipe Pitanga, aggressively echoed such calls to reject the results. But most supporters were heading home resigned. "He is not leaving! I do not accept [Bolsonaro's defeat]!" the man chanted to the rapidly dwindling crowd.
The Guardian's Tom Philips is waiting to hear Lula's speech in São Paulo:
Lula stages astonishing comeback to beat far-right Bolsonaro in Brazil election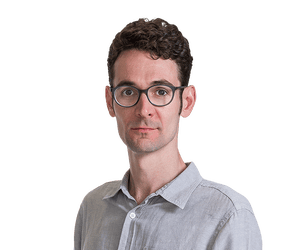 Tom Phillips
Brazil's former leftist president, Luiz Inácio Lula da Silva, has sealed an astonishing political comeback, beating the far-right incumbent Jair Bolsonaro in one of the most significant and bruising elections in the country's history.
With 99% of votes counted, Silva, a former factory worker who became Brazil's first working-class president exactly 20 years ago, had secured 50.8% of the vote. Bolsonaro, a firebrand who was elected in 2018, received 49.1%.
A few streets away on Paulista Avenue, one of the city's main arteries, ecstatic Lula supporters gathered to celebrate his victory and the downfall of a radical rightwing president whose presidency produced an environmental tragedy and saw nearly 700,000 Brazilians die of Covid.
"Our dream is coming true. We need to be free," beamed Joe Kallif, a 62-year-old social activist who was among the elated throng. "Brazil was in a very dangerous place and now we are getting back our freedom. The last four years have been horrible."
Gabrielly Soares, a 19-year-old student, jumped in joy as she commemorated the imminent victory of a leader whose social policies helped her achieve a university education.
"I feel so happy … During four years of Bolsonaro I saw my family slip backwards and under Lula they flourished," she said, a rainbow banner draped over her shoulders.
Ecstatic and tearful supporters of Lula – who secured more than 59m votes to Bolsonaro's 57m – hugged and threw cans of beer in the air.
"This means we are going to have someone in power who cares about those at the bottom. Right now we have a person who doesn't care about the majority, about us, about LGBT people," Soares said. "Bolsonaro … is a bad person. He doesn't show a drop of empathy or solidarity for others. There is no way he can continue as president."
There was celebration around the region too as leftist allies tweeted their congratulations. "Viva Lula," said Colombia's leader, Gustavo Petro.
Long-time Brazil correspondent Andrew Downie reports that 77-year-old Lula, the leader of the Workers' party, will take power on 1 January to begin his third term, following two consecutive terms between 2003 and 2011.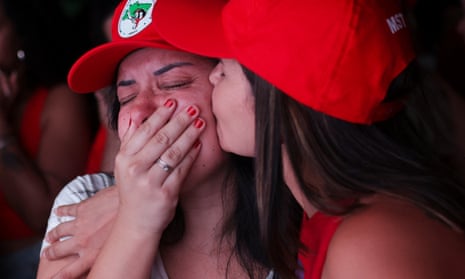 Lula win confirmed by Supreme Electoral Court
And now it's official. Luiz Inácio Lula da Silva is the new president of Brazil. His victory has been confirmed with the Supreme Electoral Court. With 98.86 % of the votes counted Lula has 50.83 % and Bolsonaro has 49.17%.
Electoral authority calls election for Lula
Brazil's electoral authority has called the runoff for leftist Lula da Silva, which means he has won presidential election, defeating far-right incumbent Bolsonaro.
This is the most important result in decades for one of the world's largest democracies –and for the future of the Amazon and the planet.
Eduardo Leite has won 57.10% of the vote in the Rio Grande do Sul gubernatorial race, after beating Onyx Lorenzoni who received 42.90%. Results are provided by the Superior Electoral Court, and are mathematically defined.
A note that the electoral authority has yet to confirm a winner.
Brazilian newspaper Folha explains how the polling firm Datafolha called the result:
And here is the historic tweet announcing that Datafolha had declared Lula the winner:
Lula's lead over Bolsonaro is growing slightly but surely: